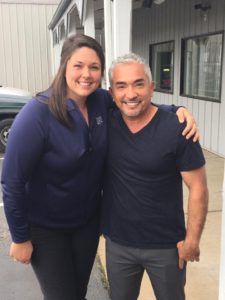 There's a million reasons why we love Lauren and most would extend beyond her amazing ability to train your dog. Lauren is one of those naturally happy people. She always has a smile on her face and her joy for life is contagious to everyone around her.
Lauren uses a positive approach when training your dog. Through the board and train program Lauren and I offer I have had the pleasure to witness Lauren train several dogs. It's so amazing the transformation that takes place and how easy she makes it look! With our board and train program your pup stays with us and Lauren comes several times to work on training based on your pups needs. She focuses her training to help you develop healthy, positive relationships with your canine companions!
Lauren is newly married to her amazing husband Matt. Lauren currently has 2 dogs – Hudson(a Golden Retriever) and Raphael(a Cane Corso). She is an instructor at Support Dogs, Inc. where she teaches TOUCH therapy classes to handlers who want to become certified TOUCH teams with their dogs.
Most recently Lauren has had the absolute pleasure to work with and learn from one of the best trainers in the world – Cesar Millan!